Furnace Replacement in Mount Vernon, WA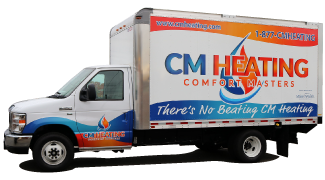 Residential Air Conditioning Services
Air Conditioners, Heat Pumps & Mini-Splits

Click here to take advantage of our specials, offers and savings today!
For all of the sunshine and warm weather Mount Vernon, WA enjoys in the summer months. The winter season brings in just as much potential for snow and cold. When the temperatures threaten to drop, knowing you have a well-functioning and safe furnace in place gives you the peace of mind you deserve in your home.
At CM Heating, we specialize in keeping our customers comfortable year-round. We proudly provide comprehensive heating and cooling services across Mount Vernon, WA.
While furnace maintenance and tune-ups are a vital step in keeping your residence functioning at its best, there comes a time when a complete furnace replacement is simply the better option. When this is the case, our technicians are here to help, as well!
Furnace Replacement Professionals You Can Trust
A properly maintained furnace has the potential to function efficiently in a home for well over a decade. In addition, those furnaces that enjoy annual maintenance inspections and services can last more than 20 years under the right conditions.
However, even the most meticulously maintained furnace will eventually need to be replaced in the name of efficiency and continued safety in a home. That's where CM Heating steps in.
We employ a team of technicians who are passionate about the work they do. They bring extensive experience, certification, and knowledge into every furnace replacement they take on across Mount Vernon, WA, and beyond.
Knowing the furnace replacement process will be quick, streamlined, and successful at the hands of our technicians gives our customers the confidence they deserve. In addition, we proudly provide flexible installation scheduling for our customers as well as next-day project completion options.
We understand that every home is different and has unique specifications and requirements, so our technicians have trained to perform a furnace replacement across various brands and models made to match customer preferences. Whether we're working on a powerful gas furnace replacement or a high-efficiency unit, we pay attention to the details that matter most.
When it comes to customer service and quality work you can count on, CM Heating always takes an elevated approach. We provide our customers with a two-year labor warranty alongside warranties already put in place by manufacturers on new furnaces and parts. Our goal is always to make a furnace replacement as budget-friendly and straightforward as possible!
How Do I Know When My Furnace Needs to Be Replaced?
To best avoid any stress associated with an unexpected furnace breakdown, anticipating the need for a future furnace replacement is always a good idea. 
Signs You Should Call CM Heating
While proper annual maintenance goes a long way toward keeping a furnace functioning efficiently for many years, some signs indicate it's time for a new furnace altogether.
Frequent Repairs
The first sign that it may be time to swap out an old furnace for something new is when you need multiple repair appointments throughout the year. That generally indicates that essential parts of a furnace are wearing down significantly. When the cost of annual maintenance surpasses the price of a new furnace, it's time to make a change.
High Utility Bills
Keeping a close eye on your monthly energy bill will tell you a lot about how well your heating system is functioning. If your lifestyle hasn't changed, but the energy bill is rising, it is likely, your furnace cannot keep pace with your house's temperature control demands. While a new furnace is an investment, it can save homeowners a significant amount of money over the long term compared to the cost of continually rising energy bills.
Strange Noises
Most HVAC systems—including your furnace—will make some sound while operating. However, they should be relatively quiet and continuous sounds, such as a dull hum or a whir. If your furnace is banging, booming, rattling, rumbling, or screeching, call CM Heating immediately. 
Reach Out Today
When you're looking for a company that can handle a "furnace replacement near me" that incorporates attention to detail, successful results, and flexible scheduling options, CM Heating is your team. We're a one-stop source for heating and cooling services that keep homes running smoothly and our customers living comfortably. Contact us today to learn more!
CM Heating is your local residential air conditioning service specialist. Get in touch with us today to schedule the AC system services. We are ready to help you with your:

Tune-Ups & Maintenance


Scheduled & Emergency Repair


Replacement & New Installation
If your air conditioning system is acting up or needs to be replaced, call CM Heating today! We can often take care of a repair in a single day and even get your installation started the next!
We are your greater Mount Vernon, WA area AC experts. Schedule with us and have the peace-of-mind that your home will be comfortable again.

Schedule air conditioning service today. CM Heating is here provide any repair, tune-up or maintenance, replacement or new installation. Call or click today to get the furnace service you need.

Schedule heat pump service today. CM Heating is here provide any repair, tune-up or maintenance, replacement or new installation. Call or click today to get the furnace service you need.
Book mini-split service today. CM Heating is here provide any repair, tune-up or maintenance, replacement or new installation Call or click today to get the furnace service you need.