Electrical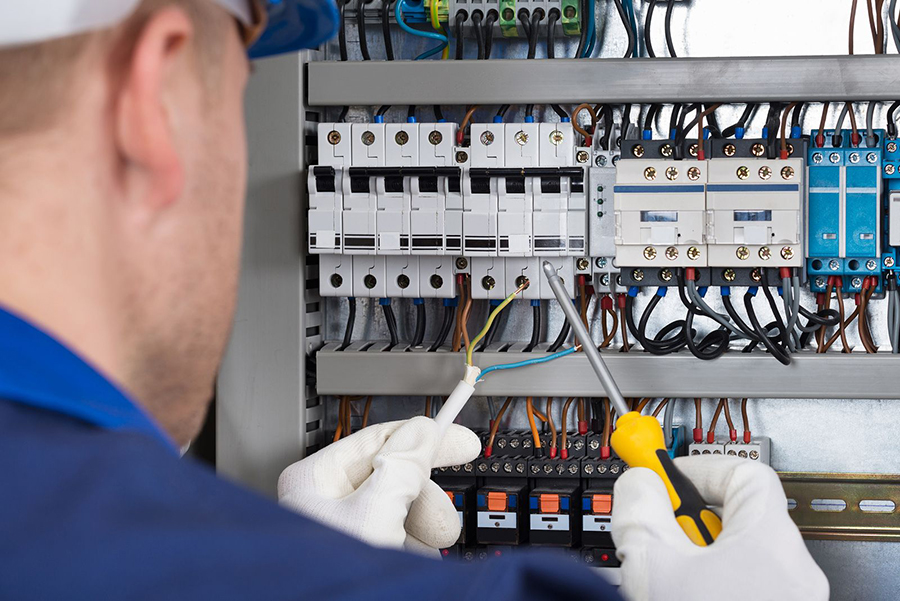 Wiring and Rewiring
Properly wiring or rewiring a building is important to ensure the safety and functionality of the electrical system, as well as to comply with local building codes and regulations. Our seasoned electricians are licensed and equipped with the skills and tools to wire and rewire your electrical services. With their help, your electricity will be in the best shape possible to keep your home comfortable and safe.
Appliance Installation
Whether you're installing a new fridge, HVAC unit, or dishwasher, CM Heating is just a phone call away from providing you with high-quality installation services. Our technicians will do the heavy lifting for you to ensure that your home is equipped with all of the appropriate appliances.
Capacity Upgrades
Did your electrical demands increase? If so, you will need an electrical capacity upgrade which normally involves increasing the size of the electrical service, upgrading the main electrical panel, adding new circuit breakers, or installing a new sub-panel. Our electricians will be able to walk you through every step of the process to ensure that the electricity inside your home matches your needs.
Generators
When you need a generator installed, the electricians at CM Heating will provide you with top-notch, friendly, and prompt services. Our technicians are experts in generator installation and will provide you with a high-quality installation.
Fuse to Breaker Upgrades
Fuse boxes are very limited in terms of safety and capacity. By upgrading to a circuit breaker panel, the electrical system can handle a higher load capacity and provide enhanced protection against electrical hazards, such as overloads and short circuits. If you're ready to upgrade your fuse box to a circuit breaker, the electricians from CM Heating can help make the transition smoother. We will walk you through every step of the process and ensure that your home is protected and equipped with a more safe and more reliable electrical system.
Pool and Hot Tub Wiring
Do you need a pool or hot tub wired? Look no further than CM Heating for assistance in powering these wonderful home amenities. CM Heating has extensive experience in providing electrical services, including pool and hot tub wiring. Their team of licensed electricians has the knowledge and expertise to ensure that your pool and hot tubs are installed safely and correctly.
Outlet and Switch Installation and Replacement
Do you need a new outlet or switch installed in your home? Or perhaps the current ones aren't working anymore? Regardless of your needs, the electricians at CM Heating will help simplify the process and provide you with expert installations and replacements of these electrical components in your home.
General Electrical Repair
Whether you have an unexplained electrical outage at home, flickering lights, or a broken ceiling fan, CM Heating is the place to come for all of your general electrical needs. Our team of electricians are well-versed and skilled in every area of electrical repairs. We will help you restore any issues with great attention to detail and efficiency.
Residential Only
Are you in need of residential electrical services for your home? CM Heating provides the region's leading electrical services. With our highly trained experts, no residential problem is too great or challenging. You can trust that our electricians will get the job done right the first time.
Evaluation and Testing
Electrical evaluations and testing ensure that your home's electricity is in its optimal condition. We recommend this service on an annual basis or after a severe weather storm that caused a power outage. With regular evaluations, you can ensure that your electrical system lasts you a long time with minimal hiccups.
Indoor & Outdoor Wiring
Whether you're installing wiring inside or outside the home, this service must be performed by an experienced and licensed professional. With the help of our electricians, your wiring will be installed safely and will stand the test of time. You can count on CM Heating for fine-tuned wiring anywhere around the home.
Surge Protection
Surge protection services involve the installation of devices that will protect electrical systems from power surges, also known as voltage spikes. These surges can occur when there is a sudden increase in electrical current, which can damage or destroy sensitive electrical equipment, such as computers, appliances, and other devices. We have a team dedicated to installing and repairing surge protectors to help you maintain a safe home environment.
ARC-Fault Breakers
An arc-fault breaker is a type of electrical safety device that is designed to detect and prevent electrical fires caused by arcing faults. Arc-fault breakers work by detecting these arcing faults and interrupting the flow of electricity, preventing fires from starting. This important safety feature must be installed by a licensed electrician, such as the ones from CM Heating. With our help, your home will be safe and protected from arcing faults and potential electrical fires.
Grounding System Upgrades
A grounding system upgrade is a type of electrical service that involves upgrading or installing a grounding system to improve the safety and reliability of an electrical system. Grounding is a critical component of electrical systems, providing a safe path for electrical current to flow to the ground in the event of a fault or other electrical issue. The electricians at CM Heating are proficient and seasoned at performing these upgrades, and will help ensure your home is equipped with the appropriate safety features in its electrical system.
GFCI Outlets & Breakers
Whether you need your GFCI outlets and breakers repaired, installed, or replaced, CM Heating Electrical services are just what you need to ensure these tasks are accomplished safely and properly. Because GFCI outlets and breakers provide a lot of protection against electrical overload, only the best electricians like ourselves should be entrusted with repairing and installing them.
Electrical Panel Upgrade
At CM Heating, we offer a wide range of electrical services. Our expertise extends to the best Electrical Panel Upgrades. Count on us to enhance the safety and efficiency of your electrical system, ensuring your home remains comfortable and well-powered.
Based in Everett,
CM Heating

proudly serves Snohomish County, WA, North King County WA, and Skagit County, WA