AIR CONDITIONING 
Repair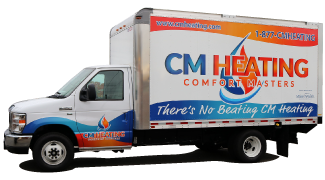 Central Air Conditioning Repair in greater Everett, WA Area

Financing

for Qualifying Applicants
Subject to approved credit. Click here to learn more!

Click here to take advantage of our specials, offers and savings today!
Our summers are scorching. What's worse than finding out that your central air conditioner broke down on the hottest day of the summer? CM Heating
TM
is your air conditioning repair specialist!
Just like your car, even a good AC system my need occasional repairs. When it seems there is a problem with your central AC in greater Freeport, call us or click here.
CM Heating's EPA certified air conditioning technicians are trained on all major air conditioning brands. Our service vehicles are fully stocked with all the parts we are likely to need to get your system back up and operating. Our mobile parts inventory includes outdoor fans and fan motors, contactors, capacitors, refrigerant, furnace, and air handler controls, transformers, indoor blowers, and air filtration products.
CM Heating TM will schedule your repair and take care of your AC issue professionally & promptly. Get in touch with us to get your home comfortable again.
AC Repair Services
Summer heat can be unbearable, especially if your air conditioner is on the fritz! At CM Heating TM, we offer numerous services to repair your air conditioner. Our services can get your system back up and running quickly.
Thorough Inspections
With air conditioning systems, it is easy to know when something is off or wrong, but it is not always obvious why. At CM Heating TM, our technicians will provide a thorough inspection of your system.
Fixing one part of an AC unit without addressing the true cause of an issue almost always leads to more repairs. Thorough inspections can help to save money, keep you informed, and ensure that no unnecessary repairs are made.
Our inspections also ensure that the health of your entire system is taken into consideration before we recommend a new air conditioning system. We want to repair your system and keep your costs low. If a repair is cheaper and will hold up over time, we will do repairs instead of jumping right into recommending a new air conditioner.
Expertise with Any Kind of HVAC System
All over Washington, there are a number of different air conditioning systems in use, cooling homes and commercial properties. Our HVAC technicians have the expertise required to work on or repair any of them. We keep the parts commonly needed for most AC repairs in stock. Because of this, our technicians can fix most issues in a single visit.
Without air conditioning, your home can become extremely uncomfortable. At CM Heating TM, we understand the need for quick and comprehensive AC repairs. If a specialty part for your system does need to be ordered, our team will do everything we can to make sure it is delivered and installed as quickly as possible.
Major Repairs
With older air conditioning systems, there will eventually come a time when minor repairs will not make as big of a difference in the system. In cases like these, our technicians are more than capable of doing major AC repairs.
While a major repair can be more expensive, if your system is capable of holding up over time and a repair will be cheaper than installing a new system, our technicians will get your system back up and running.
New AC Installations
In some situations, our technicians may recommend installing a new AC system. If they do, it is after careful consideration of the cost and longevity of the repairs that your existing system needs.
Sometimes, installing a new, more efficient air conditioning system can be a cheaper and more effective means of making your home cool and comfortable again.
Modern air conditioners allow homes to be efficiently heated and cooled. This increase in efficiency will lower your energy bill while also reducing your carbon footprint.
If we recommend a full replacement, we'll always let you know what the price of the installation will be upfront so that you can make an informed decision.
Reasons to Choose CM Heating
TM
At CM Heating TM, we have years of experience in AC repair. We love to serve our Washington neighbors.
With our AC repair services, you can expect the following:
Prepared and Certified Technicians
Our vehicles are fully stocked with the tools, equipment, and parts for all of the major models of air conditioners. We do this to make sure that our technicians have everything they need to fix your system in a single visit.
We also ensure that all of our technicians are properly trained and certified. Because of this, our technicians will do more than just fix the issues they encounter; they will do what they can to extend the life of your current system, as well.
Respect for Your Home and Your Time
All of our technicians are respectful, communicative, and responsive. When they leave your home after performing work, they will always leave things in pristine condition.
Quality and Value
At CM Heating TM, we use high-quality, long-lasting parts from the best AC manufacturers. Our AC repair services will fix whatever is wrong with your system at competitive prices and with excellence.
Contact Us for AC Repair and More
Problems with an air conditioning system can be irritating and uncomfortable. But getting your system back to normal is just a phone call away. Our technicians can provide your family with quick, comprehensive AC repair so your home can be cool and comfortable again.
For more information or a quote on AC repairs, contact CM Heating TM today!
Check These Things Before You Call Us:
On a significant percentage of our heat pump repair calls, it turns out the problem was simple and could have been corrected easily by our customer. Check these items before you call:
Make sure your thermostat is "ON", is set to "COOL", and the desired room temperature is set higher than the current ambient temperature.
Check your circuit breaker panel to ensure that your heating system breaker is "ON".
Make sure your "SYSTEM SWITCH" is set to "ON". This switch is typically a traditional toggle switch that may have a RED cover-plate.
Change your furnace filter and re-start your furnace.
If your thermostat was or the system power was off, after turning the system on give it a few minutes; many AC systems have a time-delay function on start-up.
If your system is blowing cool air, but not cooling as well as it should, check your outdoor unit to ensure there is nothing blocking airflow through the outdoor coil. PLEASE NOTE: Be very careful not to damage the fins on your outdoor coil and call us if you need help!
After checking these items, if your AC System is still not running properly call us day or night and we'll dispatch a service tech to help! These are common air conditioning service items we help homeowners with:
Air conditioning is not turning on or not cooling
Indoor temperature too hot or too cold
Some rooms are properly conditioned and some are too warm
Indoor coil or refrigerant lines covered with heavy frost or ice
Breaker to the outdoor unit tripped more than once
A vibration or odd noise with the outdoor or indoor unit
Thermostat not working properly
We will thoroughly evaluate your air conditioning system and prepare thorough job estimate.
Other Air Conditioning Services We Offer