Furnace Maintenance in Mountlake Terrace, WA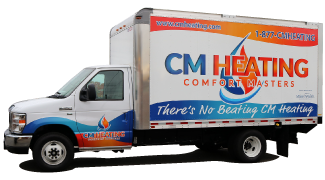 Furnace Maintenance
in Mountlake Terrace, WA

Click here to take advantage of our specials, offers and savings today!
Homeowners in Mountlake Terrace, WA, depend on their furnaces throughout the year. Even summer nights can get chilly enough to make you flip your heater on for better comfort. Using a heating system as frequently as you do in Mountlake Terrace makes it even more important to keep up with regular furnace maintenance.
At CM Heating, our team is here to make sure that your heater works properly whenever you need it, even in the middle of the night! We provide 24-hour service to cover any HVAC emergency that might come up. 
Our well-trained technicians have experience with a wide range of furnace brands and models. We have the equipment and expertise to keep your furnace running efficiently year after year.
Does Your Heater Need Maintenance?
Every furnace should receive an annual checkup, whether it's old or new, gas or electric, or even if it's not showing signs of a problem. 
Heater maintenance helps your system last longer and run more efficiently. When a furnace has to work harder to do its job, it uses more energy. That can lead to higher utility bills and more wear and tear on the parts. All that extra effort can result in frequent breakdowns that may eventually force you to invest in a brand-new furnace.
At CM Heating, our team recommends scheduling electric or gas furnace maintenance every year at the end of summer or early fall. 
If you've forgotten about maintenance in the last few years, or if you're not sure when your system last received professional furnace maintenance, don't worry. Contact us today and we'll get you on the schedule as soon as possible. We provide prompt, friendly service to help you stay comfortable through every season.
Signs you may be past due for a checkup include the following:
Unusual noises or sounds that are getting louder

Constant cycling on and off

Uneven heating throughout the house

Electrical malfunctions, which could be a sign of damaged wiring

Furnace shuts off prematurely
If you notice any of these problems with your heating system, give us a call. Some heating issues can create unsafe conditions within your home, such as a fire hazard from damaged wiring or carbon monoxide leaks from a cracked heat exchanger. Don't take a chance on your family's health. Schedule an inspection today!
Furnace Maintenance and Inspection Programs
We are proud to provide our Mountlake Terrace customers with a comprehensive inspection and maintenance program. When you give us a call, our technicians will come out and the time to check all of the major components that affect your heater's safety and efficiency. 
Our process includes:
Checking and changing air filters

Evaluating the flue system

Checking for carbon monoxide leaks

Lubricating bearings and motors

Testing the thermostat

Inspecting all gas and electrical connections

Ensuring that the burner is igniting properly

Inspecting and cleaning the heat pump assembly, if needed
Once the maintenance is complete, we provide every customer with a written confirmation and guarantee of all the work that has been performed.
Benefits of Gas and Electric Furnace Repair in Mountlake Terrace, WA
Every machine runs better when it gets regular maintenance. Your heating system is no exception. Through daily use, belts and screws can become loose or wear out. Letting small issues like this go unnoticed can lead to serious breakdowns over time. 
There are plenty of benefits to scheduling a tune-up with the CM Heating team. These advantages include:
A longer lifespan for your HVAC system

Better energy efficiency and lower costs

Improved indoor air quality

Reduced chances of an unexpected breakdown

Peace of mind
At CM Heating, we understand that keeping your home safe and comfortable is your priority. It's our priority, too. That's why we offer transparent pricing, free estimates, and excellent customer service. 
Your Reliable Furnace Contractor in Mountlake Terrace, WA
CM Heating is a locally owned company that cares about the community we serve. We offer comprehensive heating and cooling services, including support for heat pumps, boilers, gas fireplaces, and full HVAC system installations. 
Contact us today to schedule a maintenance appointment and find out why your friends and neighbors are saying great things about CM Heating in Mountlake Terrace, WA.
CM Heating is your local residential air conditioning service specialist. Get in touch with us today to schedule the AC system services. We are ready to help you with your:

Tune-Ups & Maintenance


Scheduled & Emergency Repair


Replacement & New Installation
If your air conditioning system is acting up or needs to be replaced, call CM Heating today! We can often take care of a repair in a single day and even get your installation started the next! We are your greater Everett, WA area AC experts. Schedule with us and have the peace-of-mind that your home will be comfortable again.

Schedule air conditioning service today. CM Heating is here provide any repair, tune-up or maintenance, replacement or new installation. Call or click today to get the furnace service you need.

Schedule heat pump service today. CM Heating is here provide any repair, tune-up or maintenance, replacement or new installation. Call or click today to get the furnace service you need.
Book mini-split service today. CM Heating is here provide any repair, tune-up or maintenance, replacement or new installation Call or click today to get the furnace service you need.