Ductless Mini-Split Installation Mt Vernon, WA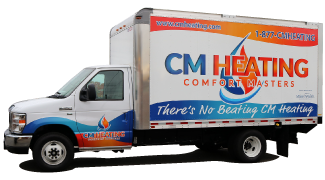 Ductless Mini-Split Installation
in Mt Vernon, WA

Click here to take advantage of our specials, offers and savings today!
Expert Ductless Mini-Split Installation in Mount Vernon, WA
Mount Vernon, WA, is known for beautiful landscapes, long rainy seasons, and frigid winters. Contending with those annual freezes requires a high-performing HVAC system. However, keeping your home at the perfect temperature year-round can become quite costly.
Fortunately, the comfort pros at CM Heating have the perfect solution. That's right! We can make sure that your home is toasty all winter long and help you save money on heating costs. We accomplish this with our ductless mini-split installation services!
What Is a Ductless System?
Ductless mini-split is a scaled-down version of a traditional split HVAC system. It utilizes an air handler and heat pump to regulate temperatures in your Mount Vernon home.
However, mini-splits do not utilize ducts. Instead, our team installs a separate air handler in each major room of your home. That includes bedrooms, living rooms, and kitchens. They connect the air handler to the heat pump by running a small, three-inch line between the two devices.
Our heat pumps can power multiple air handlers. A typical household will need one or two heat pumps to power enough air handlers for their entire residence.
Why You Should Install a Ductless Mini-Split System
CM Heating's ductless mini splits offer substantial advantages over traditional HVAC systems. These perks include:
Energy Efficient
Ductless mini-splits provide superior flexibility when it comes to temperature control. Instead of wasting resources heating your entire home, you can control each air handler independently.
For instance, you can keep your bedrooms at different temperatures than your kitchen. Changing your thermostat by just a few degrees can save you hundreds.
Fast installation
CM Heating can perform ductless mini-split installations quickly. That is because these systems do not require any ductwork. We can set up your new mini-split network fast and minimize disruptions to your daily routine.
Affordable
Contrary to popular belief, ductless mini-split installations are incredibly affordable. In fact, the cost of our mini-split systems is sometimes less than traditional HVAC systems.
Our Services
CM Heating is the premier ductless mini-split installer in the Northwest. We offer a full lineup of services, including:
New Ductless Mini-Split Installations
Our most popular service is ductless mini-split installations. When you partner with us, one of our experts will respond to your residence and assess your heating needs. We will determine how many air handlers and heat pumps you need and provide you with a free quote. Once that's all set, we'll get to work installing your new system as soon as you are ready.
Mini-Split Replacements
Already have a mini-split system, but ready to upgrade? Don't worry! We can help with that too!
Our experts can replace your outdated ductless mini-split equipment with the latest technology. These new units will work great and keep your Mt Vernon home at the ideal temperature throughout every season.
Tune-Ups
While ductless mini-splits require little maintenance, it is still a good idea to book an annual tune-up. CM Heating's experts will inspect every component of your system and ensure it's in peak condition. If we note any deficiencies, we will make needed repairs.
Repairs
Speaking of repairs, CM Heating has a team of expert technicians that can troubleshoot virtually any mini-split system. We have worked with all of the top brands and will quickly get your unit operational.
The best part is that we offer after-hours emergency repair services. Our operator will route a skilled technician to your home as soon as possible. We will get there fast and make sure that your family is not left in the cold.
Contact CM Heating Today
Are you ready to reduce heating and cooling costs? Are you tired of constantly repairing your old, outdated HVAC system? Want to keep your home more comfortable no matter what time of year it is?
If so, then you need to partner with CM Heating! Our comfort masters will provide you with a free quote and help you find the perfect solution for your residence.
Worried that you cannot afford to pay cash for a new mini-split system? That's why we offer flexible financing options for qualified applicants! So you can get a high-quality mini-split system today and pay it off over time. Contact our friendly professionals today to learn more
CM Heating is your local residential air conditioning service specialist. Get in touch with us today to schedule the AC system services. We are ready to help you with your:

Tune-Ups & Maintenance


Scheduled & Emergency Repair


Replacement & New Installation
If your air conditioning system is acting up or needs to be replaced, call CM Heating today! We can often take care of a repair in a single day and even get your installation started the next! We are your greater Everett, WA area AC experts. Schedule with us and have the peace-of-mind that your home will be comfortable again.

Schedule air conditioning service today. CM Heating is here provide any repair, tune-up or maintenance, replacement or new installation. Call or click today to get the furnace service you need.

Schedule heat pump service today. CM Heating is here provide any repair, tune-up or maintenance, replacement or new installation. Call or click today to get the furnace service you need.
Book mini-split service today. CM Heating is here provide any repair, tune-up or maintenance, replacement or new installation Call or click today to get the furnace service you need.