Furnace, Air Conditioning, Heatpump Services
in Bellingham, WA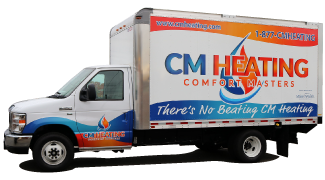 Furnace, Air Conditioning, & Heat Pump Services in Bellingham, WA
An HVAC system is not a luxury for your home and business. It can keep everyone comfortable and healthy. Extreme temperatures can make ordinary tasks seem impossible. That is why CM works hard to provide excellent HVAC services to the businesses and residents of Bellingham and surrounding areas.
Need our HVAC services? Contact us at 1-866-880-8777 or online to schedule an appointment.

Financing

for Qualifying Applicants
Click here to apply for financing today!

Click here to take advantage of our specials, offers and savings today!
Furnace, Air Conditioning, & Heat Pump Services in Bellingham, WA
We spend a lot of time in our homes. It's our comfort zone, the place that we use to relax with our loved ones. Watching a movie, preparing a meal together, or even playing board games are just some of the fun activities we can do with our family indoors. Some of us go one step further and earn a living from the comfort of our homes. A pleasant working environment is a key to high productivity. Therefore, our home needs to be at the right temperature all year round. 
Look no further for all HVAC services in Bellingham, WA. Call CM Heating at 1-866-880-8777 for all your central heating installations, replacements, and repairs. If you have an existing system in your home that needs maintenance, rely on us for top-rated tune-ups and services. 
Central & Ductless Heat Pump Installation
Having a reliable AC unit that is affordable and almost completely carbon-free is not a fantasy. You could have a central heat pump system just like that, installed in your home by one of our expert technicians. We are proud installers of American Standard central heat pumps. We also do all heat pump repairs and heat pump tune-ups. Contact us now for more information. 
Mini-Splits Installation 
If you are familiar with HVAC systems, then you may have heard that mini-split heat pumps were not always very effective heating systems in a home. With the ever-developing technology in HVAC systems, mini-split heat pumps have come a long way to be what they are today. A mini split heat pump is perfect for both residential and commercial installations. They are both cost-effective to install and use little energy to operate effectively. A mini split unit is capable of zone control, which allows you to heat or cool one particular room if you choose to do so. In fact, they have become quite a popular choice for central heating. If you live or work in Bow, and need a great heating and cooling system, consider a mini-split heat pump for your home.
Summers are temperate and dry but certainly shorter than we'd like. From late October to May the seasons are more damp with cold nights and cloudy days.


 Arlington,WA Customer Reviews
4.9/5

Central & Ductless Heat Pump Installation
Ductless Heat Pump HVAC Services 
Are you looking for an HVAC unit that can offer low operating costs and affordable installations? Of course, you are! You have come to the right place. CM Heating provides reliable heat pump services in Bellingham. Get all your heat pump services taken care of under one roof.
Heat Pump Installations
Contrary to popular belief, heat pumps are highly effective heating systems. They are perfect for your home or business. They offer reliable heating and cooling without using too much energy. They also offer zone control so you can select the rooms you want to heat or cool. We work with Mitsubishi Mini-Split Systems to bring high-quality HVAC services to the people of Bellingham. 
Heat Pump Repairs
As with all hard-working appliances, your heat pump will need repairs from time to time. We can take care of this promptly and effectively so you can get back to enjoying your much-deserved comfort. 
Heat Pump Tune-Ups
To keep your heat pump running smoothly, you should schedule heat pump tune-ups twice a year. These services should be done before summer and before winter, to ensure that your HVAC system can operate properly.
Furnace Services
You rely on your furnace during those icy cold months. We don't blame you. Washington winters can be harsh. Without a furnace, your home and business may not be a pleasant place. Thankfully, you have a dependable HVAC company to keep you warm during these frigid months.
Whether you prefer gas, electric, or oil furnace, CM Heating can provide it. While gas furnaces come out on top for energy efficiency, electric furnaces are cheaper and easier to install. Also, an electric or oil furnace may be the best option if your property does not have a municipal gas line. Contact us, and we will send a technician to you so you can discuss the best furnace for your unique needs!
It is no good to have a faulty furnace that can't keep your home warm or uses too much energy. This defeats the idea of total convenience. When you notice a problem with your furnace, stop further use and contact us for fast and effective furnace repairs. 
Your hard-working furnace needs regular maintenance to prolong its life and keep utility bills low. You will also enjoy fewer repairs and better indoor air quality. As you can see, furnace tune-ups come with many immediate and long-term benefits. With our competitive rates and comprehensive tune-ups, it will be easier to keep up with your regular maintenance.

Schedule Furnance Service

Reliable AC Services in Bellingham
Our Cool Central AC Services 
Don't let your summer be ruined by sweating away in your home. You deserve a home that is cool and refreshing during these hot months. You can be sure that CM Heating will make this possible.
AC Installations 
An AC installation is not a quick and easy process. You have many aspects to consider, from size to types of AC units. Having a dependable HVAC technician with you while you make all these decisions can make your life easier. To give you the best AC installations, we offer American Standard AC units, and other trustworthy brands, like Carrier and Lennox. With us, you can't go wrong.
AC Repairs
AC malfunctions happen to all of us, no matter what AC unit you have. We offer quick-response emergency repair services to repair your AC unit when you need it most. Call us if your AC unit is acting up and needs some attention.
AC Tune-Ups
While repairs are inevitable, you can lower the chances of needing them. When you keep up with your annual AC tune-ups, you can expect fewer repairs, improved air quality, and lower electricity bills. Schedule this service just before summer starts so your AC unit can tackle the hot days.
Contact us at 1-866-880-8777 or online for more information on our HVAC services in Bellingham, WA.

Bellingham
permits and inspections for most mechanical work done within the city. We work closely with
Bellingham
,WA inspectors to obtain all proper permits for our work. Learn more about the
city permit requirements
.
CM Heating is licensed and insured to do business in Bellingham, Washington:
General Contracting License: CMHEAI*095R4
Electrical License: CMHEAMH877DN