AC SERVICES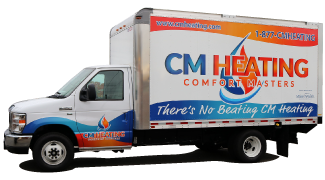 Residential Air Conditioning Services
Air Conditioners, Heat Pumps & Mini-Splits

Click here to take advantage of our specials, offers and savings today!
There are few things more frustrating than dripping in sweat on a July afternoon because your air conditioner isn't working the way it should. All you want is for your house to provide some release from the sweltering heat. It makes you feel tired, uncomfortable, and overall aggravated when it's not.
When you're desperate for stellar AC services, the first call you should make is to CM Heating.
Common AC Problems a Home May Have
Many features factor into your air conditioning functioning properly. When one of them is damaged, the entire system begins to fail.
Problems with your air conditioner could require: 
While you can't be sure until an AC services professional has a look at your unit, there are a few common issues that could be plaguing your home's air conditioning.
Dirty Filter
One of the most common causes of a malfunctioning air conditioner is an old or dirty filter. A filter's job is to extract any contaminants from the air before it enters your home, which is why it can quickly become clogged with debris.
It's recommended you change out a unit's air filter according to the manufacturer's guidelines. Changing filters might not require the help of AC services, but CM Heating is always available to answer any questions about it. 
Leaking Refrigerant
Another potential reason why your air conditioner isn't working well anymore is that it's leaking refrigerant. Since an air conditioner functions by using coolant to affect a home's temperature, having a leak could send your AC unit completely out of whack.
The cost and time associated with a refrigerant leak repair greatly depend on the severity and location of the problem. That's why it's best to contact AC services immediately when you suspect that your unit is leaking coolant. 
Broken Breaker
When an air conditioner's motor suddenly stops running, it's usually caused by issues in the unit's breaker. An AC unit's breaker is the part that prevents the machine's motor from overheating. An overheating air conditioner can be a huge problem for your home because it often leads to fires.
The Possible Effects of a Poorly Maintained Air Conditioner
Many of the problems that you face with your home's cooling system can be attributed to it being poorly maintained.
A poorly maintained air conditioner can have much more dire impacts on your life than just being hot in the summer or paying for constant AC repairs.  
Fires
One of the scariest potential side-effects of neglecting AC services is that it can become a major fire hazard. Having an air conditioner that's overly dirty allows for pieces of debris to catch fire more easily. 
Poisoning
Another reason you should always properly maintain your home's air conditioner is that it could poison you. This happens when an AC unit is leaking coolant. When this issue goes unchecked, the refrigerant has the potential to evaporate into a toxic gas that's pumped through directly into your home's air.
Evaporated coolant can cause a condition called refrigerant poisoning with symptoms like: 
Nausea

Coughing

Dizziness

Seizures

Losing consciousness
These symptoms are bad enough on their own but left unchecked, refrigerant sickness can be life-threatening. 
Long-Term Health Issues
In addition to the possibility of getting poisoned by a poorly maintained air conditioner, it can also lead to frightening chronic health problems down the line (Carey). A faulty AC has been known to increase the chances of:
Heart problems

Headaches

High blood pressure

Breathing difficulty
The best way to avoid succumbing to these health issues is by regularly scheduling AC services and maintenance with CM Heating. 
How to Maintain Your Air Conditioner
Now that you understand the consequences of poorly functioning AC, you're probably wondering how to prevent this fate. 
Change the Filter
Air conditioners have maintenance instructions for a reason, and it's to keep your family safe. Always change your AC unit's filter according to these manufacturer recommendations. 
Schedule Regular Maintenance AC Services with CM Heating
Doing your part to care for your air conditioner is an important part of being a responsible homeowner, but you still need to schedule regular AC maintenance to ensure your home is safe. If you think it's time for an AC evaluation, contact CM Heating today.
Works Cited
"Refrigerant Poisoning." Mount Sinai, Mount Sinai, www.mountsinai.org/health-library/poison/refrigerant-poisoning. Accessed 29 Apr. 2021.
Carey, Elea. "Refrigerant Poisoning." HealthLine, 24 Mar. 2021, www.healthline.com/health/refrigerant-poisoning.
CM Heating is your local residential air conditioning service specialist. Get in touch with us today to schedule the AC system services. We are ready to help you with your:

Tune-Ups & Maintenance


Scheduled & Emergency Repair


Replacement & New Installation
If your air conditioning system is acting up or needs to be replaced, call CM Heating today! We can often take care of a repair in a single day and even get your installation started the next!
We are your greater Everett, WA area AC experts. Schedule with us and have the peace-of-mind that your home will be comfortable again.

Schedule air conditioning service today. CM Heating is here provide any repair, tune-up or maintenance, replacement or new installation. Call or click today to get the furnace service you need.

Schedule heat pump service today. CM Heating is here provide any repair, tune-up or maintenance, replacement or new installation. Call or click today to get the furnace service you need.
Book mini-split service today. CM Heating is here provide any repair, tune-up or maintenance, replacement or new installation Call or click today to get the furnace service you need.