AC Repair in Everett, WA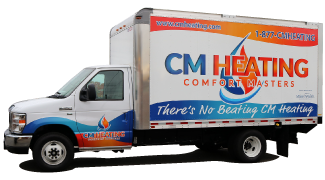 Residential Air Conditioning Services
Air Conditioners, Heat Pumps & Mini-Splits

Click here to take advantage of our specials, offers and savings today!
In Everett, WA, every home and building needs an effective cooling system. Air conditioners maintain indoor temperatures, making spaces cooler doing the warmer months of the year. However, air conditioner systems often work hard to give homeowners the cool, comfortable temperatures they desire. For that reason, they inevitably break down and need professional repairs. 
At CM Heating, our certified HVAC technicians provide our neighbors in Everett, WA, with quick, quality AC repair services at competitive prices. We want to help make your home cool and comfortable again.
Signs You May Need AC Repair
Issues with your air conditioner never seem to happen at a convenient time. To avoid nightmarish situations, like a total breakdown in July, homeowners should be aware of the signs that their AC more than likely needs repair.
These signs include the following:  
Age of Your System
Air conditioners will usually last for about a decade. As they get older, they often require more repairs to keep them working effectively. If your air conditioner is somewhere close to this age and shows any other signs, it is likely time to seek professional AC repair services. 
Lack of Airflow
If there are certain rooms or spaces in your home that get little to no airflow or an overall lack of airflow throughout the house, AC repair is needed to address the efficiency and effectiveness of your system.  
Inconsistent Temperatures 
Air conditioners are bought and installed to help regulate and maintain comfortable indoor temperatures. If your air conditioner is not keeping consistent temperatures or if you experience warm and cool spots within your home, there is a problem with your air conditioner. 
Higher Indoor Humidity
Aside from cooling a home, air conditioners also cut down on the humidity in your home by keeping constant air circulation. A rise in your home's humidity levels can be a sign that you need AC repair.
Unusual Noises
Air conditioners are known to make some noise when starting, shutting off, and even while running. But if you notice strange or sudden noises coming from the unit or your ductwork, an HVAC technician will need to make repairs. 
Higher Energy Bills
A sudden change in your monthly energy bill can often be a sign that something is wrong with your air conditioner. If the problem causes your unit to run less efficiently, your unit will inevitably draw more power to cool your home. An inspection from an HVAC technician can help determine this. 
Leaks 
One of the more hazardous signs of AC repair is leaking from your air conditioner. Sometimes leaking is the result of a coil freezing up and thawing. In this case, the leak is just water. However, if there is a freon leak, it can be hazardous. In either case, your air conditioner is not working as it should, and it is best to contact a professional for assistance.   
Unpleasant Odors
Another odd but noticeable sign for AC repair is strange smells from your air conditioner or your home's ductwork. Often, these smells can be off-putting yet harmless, but there are instances when they can be a potential danger. If you notice odd smells coming from your unit, contact an HVAC technician immediately.   
Issues Turning On and Shutting Off 
If your air conditioner has issues starting and shutting off, you need AC repair. Does your unit start but shut off after just a few minutes? Or does it not turn off as it should? If so, there is likely a problem with your thermostat, which acts as the brain of an HVAC system. To use your system correctly, you need an effective thermostat.
Some of the signs for AC repair are more hazardous than others, but you should take each of them seriously in the interest of your comfort, safety, and health. A broken or faulty air conditioner can cost a homeowner much more than necessary. 
AC Repair Near Me? CM Heating!
At CM Heating, our team of certified and experienced HVAC technicians has the parts, tools, knowledge, and skills to do nearly any kind of AC repair. They will perform a thorough inspection of your system to ensure that they fix the root of the problem, not just a part of it. With HVAC services from CM Heating, our customers in Everett, WA, receive quick, quality AC repair at competitive prices. 
Contact us today for more information or to schedule service!
CM Heating is your local residential air conditioning service specialist. Get in touch with us today to schedule the AC system services. We are ready to help you with your:

Tune-Ups & Maintenance


Scheduled & Emergency Repair


Replacement & New Installation
If your air conditioning system is acting up or needs to be replaced, call CM Heating today! We can often take care of a repair in a single day and even get your installation started the next!
We are your greater Everett, WA area AC experts. Schedule with us and have the peace-of-mind that your home will be comfortable again.

Schedule air conditioning service today. CM Heating is here provide any repair, tune-up or maintenance, replacement or new installation. Call or click today to get the furnace service you need.

Schedule heat pump service today. CM Heating is here provide any repair, tune-up or maintenance, replacement or new installation. Call or click today to get the furnace service you need.
Book mini-split service today. CM Heating is here provide any repair, tune-up or maintenance, replacement or new installation Call or click today to get the furnace service you need.