AC Installation in Shoreline, WA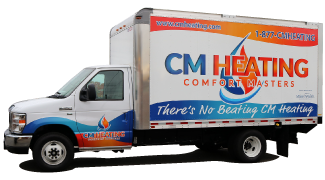 Click here to take advantage of our specials, offers and savings today!
The past few summers have brought sweltering heat mixed with high humidity that can leave your home hot and muggy without the right air conditioning system. With our AC installation services in Shoreline, WA, we want to make every home comfortable even when temperatures outside are not. If your AC has broken down or you are ready for something new, you can lean on CM Heating™ for quality installations at competitive prices.
AC Installation Services in Shoreline, WA
HVAC installation can be an overwhelming process filled with phone calls, estimates, and many difficult decisions. But once you've made the most important decision of which contractor to call, the rest can be a smooth process. At CM Heating™, we want every step from choosing to have your AC installed to paying for the AC installation to be simple and stress-free.
Signs That You Need a New AC
The first step is to decide if you need an air conditioning installation or just a repair. You may need a replacement if any of the following describes your home or AC unit:
Higher energy costs

More frequent repairs

High humidity

Uncomfortable indoor temperature

Poor air quality

High-cost repairs

An old AC unit (over 10 years)
Choosing the Right AC System
Once you and your technician determine together that you need a new AC installation, you'll go through the process of choosing a system. We will help you find something that is the right size without being too big or too small for your home. We offer AC installation services for both central and mini-split systems.
Central Air Conditioning
At CM Heating™, we are proud to install American Standard high-efficiency air conditioners which are some of the best central air conditioning units on the market today. Central air conditioning works through ductwork to bring cool air to every room in the home. As part of our new AC installation, we can install ductwork as well as the system itself.
Ductless Mini-Split Systems
Are you tired of having to cool your whole home even when you are only using one or two rooms during the day? Are you trying to find an efficient system that can be installed without putting in ductwork? A ductless mini-split system may be the perfect solution for your home. These systems are split between an outdoor unit and 1-8 indoor units. They are easy to install and they provide efficient zoned cooling. Some models can even be used to heat and cool the home. We have a team of technicians who specialize in installing mini-split systems.
Premium AC Installation Services at CM Heating™
While choosing the right air conditioner for your home is an important step, finding the right HVAC installation company is even more crucial. Even the best air conditioners won't be able to work efficiently if they've been improperly installed. That's why you should have our certified technicians take care of your air conditioning installation. Not only do we have the level of experience that is needed to install systems well, but we also have the integrity to provide the highest quality services every time.
Every AC installation is backed up with our 100% satisfaction guarantee. If you aren't happy with your installation, we will do anything we need to do to get you the services you are looking for. There's no beating CM Heating™ because we keep working until you're happy.
We know that AC replacement can be both unexpected and expensive. That is why we offer financing through GreenSky and Wells Fargo. We want you to have the system that you need without waiting. If you qualify, you'll be able to pay for the installation using a flexible payment plan. You can also check with us to see if we have any specials or if there are any rebates that you can get through your purchase.
Need a New Air Conditioner? Call Us Today!
With every AC replacement and installation, we want you to have the best option in your price range. We will help you consider questions such as efficiency, size, smart technology, and more so that every room in your home can be comfortable.
When your old air conditioner stops working, we want you to know who to turn to. With thousands of positive reviews and years of experience in Shoreline and the surrounding areas, we are your premium choice for air conditioning services near you. Call us or reach out to us online for AC installation in Shoreline, WA.

Schedule air conditioning service today. CM Heating is here provide any
repair, tune-up or maintenance, replacement or new installation
. Call or
click
today to get the furnace service you need.

Schedule heat pump service today. CM Heating is here provide any
repair, tune-up or maintenance, replacement or new installation.
Call or
click
today to get the furnace service you need.
Book mini-split service today. CM Heating is here provide any
repair, tune-up or maintenance, replacement or new installation
Call or
click
today to get the furnace service you need.