FURNACE Repair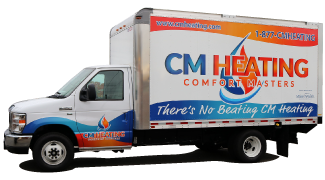 Scheduled & Emergency Furnace Repair

Financing

for Qualifying Applicants
Click here to apply for financing today!

Click here to take advantage of our specials, offers and savings today!
Your furnace is the work-horse of your home through the Everett, WA winter – keeping you and your family comfortable no matter the weather. Your local furnace specialists at CM Heating
TM
are here to make sure it stays that way with expert furnace repair services.
No matter how efficient your furnace is, it will eventually need repairs just like your car. When your furnace seems off or isn't heating correctly call CM Heating TM to solve your issue the first time.
We will schedule your repair and take care of your furnace issue professionally & promptly. Get in touch with us to get your home comfortable again.
Furnace Repair in Greater Everett, WA Area
Save Money? Check These Things Before You Call
Several times during each cold snap, our service tech arrives on a heat call only to find that the problem was a simple one that could have been resolved by the owner. Typical simple issues include:
Thermostat improperly set: Make sure your thermostat is "ON", is set to "HEAT", and the desired room temperature is set higher than the current ambient temperature.
No power to the heating system: Check you circuit breaker panel to ensure that your heating system breaker is "ON".
Emergency furnace switch off: Make sure your "FURNACE SWITCH" is set to "ON". This switch is typically a traditional toggle switch that may have a RED cover-plate.
Dirty filters: Change your furnace filter and re-start your furnace.
After checking these items, if your Furnace System is still not running properly call us day or night and we'll dispatch a service tech to help!