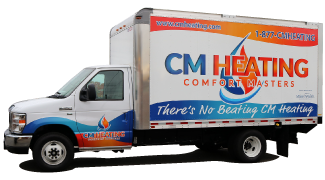 Mini Split Repair in Lynnwood, WA
When it comes to caring for your mini split system, there are a few small things your CM Heating technician can do to help you care for the unit. Scheduling preventative maintenance will help the system last longer, but you should also know when to schedule mini split repair services. Together, preventative care and timely repairs will help you keep your AC unit working efficiently.
What Preventative Care Does a Mini Split System Require in Lynnwood, WA?
It's a good idea to schedule routine service with your HVAC technician every six months. Regular care will keep your ductless AC system operating as efficiently as possible. Between service appointments, you should protect the exterior of the unit and clean its air filter every 30 days. The technician will also clean or replace the filter during their seasonal inspection, in addition to providing more extensive services.
Servicing the IAQ Components
Many mini split systems also come with air-purifying technology to save people from having to buy a separate air purifier for their homes. Your HVAC technician will inspect these components to ensure they are functioning properly. They may need to adjust these components to improve the indoor air quality (IAQ) in your home.
Cleaning the Evaporator Coils
Even a mini split system uses an external condenser unit, which means your system relies on evaporator coils to cool the air in your Lynnwood, WA, home. These coils should be cleaned from time to time to ensure they continue operating efficiently. If a technician doesn't clean these coils a couple of times per year, the unit may freeze up and stop working.
Checking the Fan and Blower
Damaged fans and blower units are often the culprits when mini split AC repair services are needed in a Lynnwood, WA, home. During a seasonal inspection, one of our technicians will check these components to make sure they are operating well. If there's a leaking hose or damaged fan blade, getting these components replaced can improve energy efficiency in your home.
How to Recognize the Need for Ductless AC Repair Services
A mini split system is a complex piece of machinery, which is why preventative care is necessary. When a malfunction does occur, it's important to request mini split AC repair services as soon as possible. Doing so will help you save money on energy costs and keep your home cooler during the hotter months.
Malfunctioning Controls
If the controls on your unit aren't working properly, you should schedule service as soon as possible. This type of problem is most likely the result of a short or another type of electrical problem in the unit. In addition to inhibiting energy efficiency, an electrical problem may also pose a fire hazard.
Buildup of Ice
If you find that your unit isn't cooling properly, check the evaporator coil for icy buildup. This may indicate dirty coils. Alternatively, there may be an issue with the refrigerant levels in the unit. Scheduling mini split repair services will help identify and resolve the problem.
Poor Cooling Performance
You may also need repairs for your mini split system if you notice the unit isn't properly cooling your home. This might involve diminished airflow or airflow that feels warm. An evaluation of your system will help an HVAC technician determine whether the problem is with your refrigerant level, fan, or blower assembly.
Water Leaks
A leaking mini split system can cause water damage in your home, making it especially important to resolve this issue. When you schedule ductless AC repair for your home, the technician will clear the condensate line to ensure water is flowing properly. Over time, algae can build up in the line and create blockages, but seasonal inspections will include cleaning this line.
Rising Energy Costs
If you notice unexplained rises in your energy costs, you should schedule service for your mini split system. The system may need cleaning or repairs to improve its operating efficiency. Especially if you use the system heavily, more frequent maintenance and care may be required.
In Need of Mini Split Repair in Lynnwood, WA?
Whether you need preventative care or repairs for the mini split system in your Lynnwood, WA, home, Contact CM Heating. Our technicians can care for your AC unit to extend its life and keep it operating efficiently.