AC Repair in Burlington, WA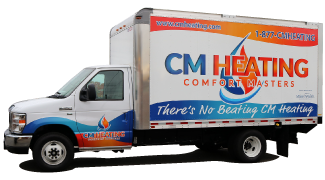 AC Repair in Burlington, WA

Financing

for Qualifying Applicants
Click here to apply for financing today!

Click here to take advantage of our specials, offers and savings today!
Everyone loves summer weather, but there's nothing better during the summer than having a nice cool place to escape from the heat. Keeping your home air conditioner in good operating condition becomes a priority when summer is at its height. 
When your home cooling system breaks down on the hottest day of the year, let us help. CM Heating will provide prompt and professional service you can depend upon. Our EPA-certified technicians are proud to serve the Burlington, WA, area. We can take care of all of your AC repair needs and have you cooling off before you know it.
CM Heating is the right choice for your AC repair service for many reasons. Our technicians can work on all major brands of air conditioners, and we keep our service vehicles stocked with all of the parts and components that we may need for each job. Whether you need a fan motor, capacitor, transformer, or refrigerant, we're prepared.
What to Expect from an AC Repair Company
When it's hotter in your house than it is outside, you want relief right away. At CM Heating, we understand how uncomfortable it can be. We will go the extra mile to resolve your AC problems as soon as possible. 
Of course, you need more from an AC repair company than just emergency repair services. The company should provide routine maintenance services as well. With regular checkups, you can avoid those sudden breakdowns that come at the worst time.
At CM Heating, we recommend maintenance checks at least once yearly. Annual checkups ensure that your system will be reliable all summer. Preventive maintenance allows us to fix small problems before they become major, expensive issues. 
Regular maintenance will extend the life of your AC. It also improves performance and decreases power bills. We'd like to schedule a maintenance check for your AC to ensure you get the best out of the system when you need it most.
AC System Inspections
CM Heating is proud to provide air conditioning repair in Burlington, WA, but we also offer other services for our customers, such as inspections. Maybe your unit is working fine, but you feel like something is a little off about it. Our technicians will inspect the system to detect any potential problems.  
An inspection will help you avoid unnecessary repairs, thereby saving you money. Our goal is to keep you from replacing your AC unit too soon. After the inspection, we will either make repairs or suggest that you replace the unit. You may need to replace your air conditioner for a variety of reasons, including:
Inconsistent temperatures

Increased energy bills

Strange sounds coming from the unit

Coolant leakage

Unpleasant odors 

A thermostat that isn't working properly
When faced with these issues, you need expert advice. If we determine your unit needs replacing, we will discuss options that fit your needs and budget. 
Expert Repair or Installation for Any Type of HVAC 
You can't imagine the number of different AC systems in use today, but our technicians are trained to work on any of them. Also, if a new AC or HVAC system is needed, we specialize in installing all makes and models. Our areas of expertise include:
Standard or ductless heat pump repair

Routine maintenance

Emergency repairs

Installation
We're adamant about maintenance and repair because a faulty AC unit can cause health issues. As an example, leaky units can cause refrigerant poisoning, which is a dangerous condition. It can result in the following symptoms:
Coughing

Nausea

Dizziness

Seizures

Unconsciousness
A faulty unit can also increase the risk of heart problems, high blood pressure, and breathing problems. 
Let CM Heating Keep You Cool this Summer
It's easy to put these things off. You know your unit or system needs attention, but you're not sure who to call. You can begin by searching the web for "AC repair near me," or you might try "air conditioning repair near me." Either way, you'll get a lot of results. Yet, you still won't know which is the right choice.
The best way to find superior AC repair in Burlington, WA, is to contact CM Heating. With one phone call, you can solve all of your AC repair or maintenance issues. We will be happy to talk to you about our services and schedule an inspection.
Permitting, Licensing and Insurance: We are licensed and insured to do business in Stanwood:

General Contracting License: CMHEAI*095R4

Electrical License: CMHEAMH877DN