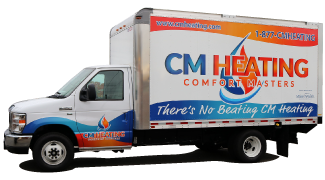 AC Installation in Mount Vernon, WA
There are long, icy-cold winters and short, warm summers in Mount Vernon, WA. Efficient and reliable heating and cooling are vital with such weather extremes, and cutting corners in this area is simply not worth it.
An old or faulty air conditioning unit is a problem for several reasons. Firstly, a deficient unit cannot adequately cool your home when you need it most. To make matters worse, a faulty AC can greatly increase your energy costs. It's vital to get this right the first time, and that's why CM Heating in Mount Vernon is here to take your call at any time.
Does My AC Need to Be Replacing?
AC repairs can be costly, and ultimately it may be more economical to replace an old unit with a new, efficient, and quieter model.
Technology is constantly upgrading, and that includes air conditioning. It's time to replace an old unit with a new AC installation when you are having one or more of the following issues:
High energy bills

Your current unit is reaching the ten- to fifteen-year mark

The cooling is not consistent in each room

It keeps breaking down

It's making unusual noises, or the unit is leaking

The thermostat temperature is not accurate

It's performing inadequately
We will review your air conditioning and give you an expert diagnosis for a new air conditioning installation.
AC Installation Done Right
For an AC unit to perform efficiently, it needs to be installed properly and be the correct size for the cooling area. While it may be tempting to cut costs by installing a smaller unit, it will mean that the system has to work very hard and will be inadequate to cool your space. If it's too big, it's a waste of equipment and money.
At CM Heating, we will recommend and provide the perfect-sized unit for your home and send one of our EPA-certified AC contractors to install it. CM Heating will guarantee that your air conditioning installation is of a superior standard, ensuring that:
The refrigerator piping is perfectly insulated and installed correctly

The ductwork is clean, sealed properly, and tightly

The system runs efficiently and quietly
After the installation, you can schedule regular maintenance on your unit with CM Heating. A maintenance membership will give you peace of mind that the unit performs efficiently and cost-effectively by the company that knows it best.
HVAC Installation
Air conditioning generally refers to cooling your home, while HVAC is an acronym for heating, ventilation, and air conditioning systems. Installing a new HVAC system is an excellent investment into your home, as heating and cooling costs can account for approximately half of your energy bill and a lot more if it's faulty or old. An HVAC system is essentially central heating and cooling, and it provides a consistent thermostat-controlled temperature year-round for your entire home.
You can schedule an HVAC installation with CM Heating at any time of the year, but spring is the best time in Mount Vernon, WA, because it's used the least during that season.
Can I Do My Own HVAC Installation?
We recommend that you save HVAC installations for experts like CM Heating. A correctly installed HVAC system will be cost-effective and highly efficient at cooling and heating your home. An improperly installed installation will be bad for the environment and your wallet.
Options for Everyone
Homes come in different shapes and sizes, and so do your cooling needs. If an HVAC isn't suitable for you as you already have a furnace or don't have the room for ducting, a mini-split system is an excellent option.
Mini-split systems are easier and faster to install and generally ductless. A mini-split system is energy-efficient, and you can either have one in each room so that you only cool the rooms you are regularly using. Otherwise, they can have limited ducting to serve more than one room.
Mini-split systems are also highly affordable.
CM Heating — Mount Vernon's Cooling Experts
CM Heating is the best team to handle your heating and cooling needs. We have affordable and practical options for everyone, and we offer to finance qualified applicants.
With years of experience providing unparalleled heating and cooling services to Mount Vernon, WA, you can trust us to do the job right every time. Call us now to discuss how CM Heating will meet your cooling requirements.