Furnace Tune-Up in Millcreek, WA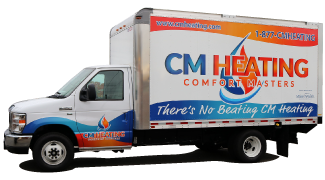 Schedule HVAC Service in Millcreek, WA Today

Financing

for Qualifying Applicants
Click here to apply for financing today!

Click here to take advantage of our specials, offers and savings today!
As fall turns to winter and the temperatures start to drop, the last thing you want to worry about is whether your furnace is going to work. You need to be able to count on your home's heating system to provide you with warm air to keep your house comfortable no matter how cold it gets outside.
CM Heating has provided furnace services to homeowners in Millcreek, WA, for more than 35 years. During that time, we've established our reputation as a heating and cooling company you can trust. When you're looking for furnace maintenance and tune-up services, let the experts at CM Heating handle your home heating system.
The Importance of a Furnace Tune-Up
Most homeowners in Millcreek, WA, don't need their furnaces year-round. Likely, your furnace may not be used for several consecutive months. During this idle period, it's not uncommon for excess dirt, dust, and debris to collect in your furnace, which can lead to problems throughout your home heating system.
In addition to decreasing the efficiency of your furnace, your heating equipment may develop problems in different areas, especially where there are moving parts. 
Because your furnace may have to work harder to overcome a resulting loss in efficiency, it can lead parts of your furnace to wear out even faster, and that could lead to big repair bills down the road.
With regular furnace maintenance, including an annual furnace tune-up, you can prevent many of these problems from occurring. Your HVAC technician can catch many small problems before they have a chance to grow, extending the lifespan of your equipment.
Annual furnace tune-ups can also ensure the safety of your furnace. An HVAC tech can quickly identify and repair problems that could lead to dangerous carbon monoxide leaks or the potential for natural gas leaks. 
From addressing major health hazards to fixing minor issues, an annual furnace tune-up can end up saving you money — and keeping your family warm and safe all year long.
What to Expect from Your Furnace Tune-Up Services
While the exact specifics of every furnace tune-up depends on the make and model of your home heating equipment, they generally involve a thorough inspection performed by a qualified HVAC technician, like the ones at CM Heating.
Your technician will comb through your furnace, going through a checklist to address all important aspects, including:
Thermostat

Pilot light and assembly

Switches and other controls

Safety devices

Fans, motors, and belts

Flue pipes

Gas or fuel lines
Your technician will look for any worn or damaged parts, replacing them as they go. They'll also tighten any loose electrical or mechanical connections and clean the furnace to ensure the highest efficiency possible. 
Air Filters
A clogged air filter is one of the most common reasons a furnace may lose some efficiency. Because they prevent air from flowing freely, clogged filters can put tremendous strain on your equipment and create pockets of cold air throughout your home.
As part of your furnace tune-up, we'll replace your air filters. This replacement not only improves the performance of your heating equipment but also reduces the amount of dust, dirt, mold, and other airborne particles that can circulate through your heating system.
The Benefits of Regular Furnace Tune-Ups
For homeowners in Millcreek, WA, there are several benefits to having your furnace tuned up every fall:
Improved Efficiency
Your furnace can work 30% more efficiently with a regular tune-up, which can end up saving you a bundle on energy costs.
Prolonged Equipment Lifespan
Keeping your furnace well-maintained can prevent excessive wear and tear, meaning you'll have to replace your furnace less often.
Increased Home Comfort
When your furnace is working its best, your home should feel more comfortable all year long.
Staying Compliant with Your Warranty
Most furnace warranties require annual maintenance from qualified professionals, like those at CM Heating.
Finding an Expert Furnace Tune-Up Near Me
If you're looking for the best technicians to perform your furnace tune-up in Millcreek, WA, trust the experts at CM Heating. We're committed to providing homeowners in our community service they can depend upon. Contact our team today to schedule your next service appointment — we're ready to answer your call!
service!
Permitting, Licensing and Insurance: We are licensed and insured to do business in Stanwood:

General Contracting License: CMHEAI*095R4

Electrical License: CMHEAMH877DN