AC Replacement in Mount Vernon, WA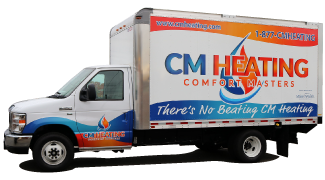 Residential Air Conditioning Services
Air Conditioners, Heat Pumps & Mini-Splits

Click here to take advantage of our specials, offers and savings today!
Don't want to try to weather another summer with a broken-down AC in Mount Vernon, WA. At CM Heating, we handle AC replacements, bringing you the right system to take care of your home's cooling needs at an affordable price.
A new air conditioner can save you money on energy bills and maintenance while keeping your home much more comfortable. If your older AC unit is constantly breaking down, call CM Heating for an estimate on an AC replacement today.
Signs that You Need an AC Replacement
There are several signs that you can look for that tell you when it might be time to prepare for an AC replacement. Here are some of the questions that you can ask:
Is the AC unit over ten years old?

Is the home too warm on a regular basis?

Do temperatures seem to fluctuate, no matter how the thermostat is set?

Do you have to repair the unit constantly?
If any of these things are true, you could likely stand to benefit from getting a new air conditioner. At CM Heating, our team of expert technicians can help you to determine whether it's time for a replacement or if straightforward repairs and maintenance can do the trick.
Older AC units drop in efficiency over time. This means that they often deliver less cooling for the same amount of energy. 
Even if your old AC is in excellent working condition, a new unit will use less power to create the same result. New AC models are highly advanced and incorporate more modern technology than older models.
The same is true for maintenance costs. If you're spending time and money repairing an AC near the end of its lifespan, you can save money by replacing your AC. Your brand new AC unit won't require the constant repairs that an older one does.
Aging AC units tend to be hard to control effectively. Over time, wear sets in and reduces capacity until they don't have the power to cool the same space that they were initially sized for. 
All of these problems can be solved with a reliable and efficient AC replacement from CM Heating. Our technicians can find the perfect unit to replace your current system, delivering powerful cooling and energy-efficient savings.
How You Can Benefit from an AC Replacement
Staying cool isn't the only thing that a new air conditioner can do for your home. One of the most exciting benefits that you can expect is to save energy and effort on maintenance. Newer AC models have more effective air filters and systems to deliver higher quality air into your home, keeping your family healthier, too.
A new AC can increase your property value, making your home much more attractive if you decide to sell your home in the future. 
At CM Heating, we understand that the cost of an AC replacement might be too much for some families to accommodate all at once. To bring our services to as many of our neighbors as possible, we provide financing options, establishing payment plans to allow homeowners to get the systems that they need.
Choosing the Right AC
Getting an AC replacement isn't as simple as just buying another unit of the same kind you had before. Chances are that if your AC is ten years or older, the model has been replaced by something else. With changes in design over the years, a new evaluation of your home's cooling needs is in order.
Our team knows the necessary to carefully evaluate and calculate the cooling load of your home. This dictates the size of AC that you're going to need to keep your home cool and comfortable all year long.
Professional sizing saves you money in the long run. If your AC is too small, it won't be able to keep up with the heat. If it's too big, you'll end up spending more than you need to. Trust CM Heating to help you find the perfect AC for your home.
Quality AC Replacement Near Me
When you need AC services, contact CM Heating today. Our team has the tools, knowledge, and experience to handle any AC replacement needs that you may have.
CM Heating is your local residential air conditioning service specialist. Get in touch with us today to schedule the AC system services. We are ready to help you with your:

Tune-Ups & Maintenance


Scheduled & Emergency Repair


Replacement & New Installation
If your air conditioning system is acting up or needs to be replaced, call CM Heating today! We can often take care of a repair in a single day and even get your installation started the next!
We are your greater Mount Vernon, WA area AC experts. Schedule with us and have the peace-of-mind that your home will be comfortable again.

Schedule air conditioning service today. CM Heating is here provide any repair, tune-up or maintenance, replacement or new installation. Call or click today to get the furnace service you need.

Schedule heat pump service today. CM Heating is here provide any repair, tune-up or maintenance, replacement or new installation. Call or click today to get the furnace service you need.
Book mini-split service today. CM Heating is here provide any repair, tune-up or maintenance, replacement or new installation Call or click today to get the furnace service you need.