AC Replacement in Everett, WA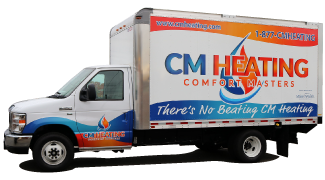 Residential Air Conditioning Services
Air Conditioners, Heat Pumps & Mini-Splits

Click here to take advantage of our specials, offers and savings today!
When the temperature is heating up and the thermometer is all red from the bottom to the top, you need an AC unit you can rely on. Anything less than a cooling system that's working exactly like it should is simply not worth the hassle of keeping around. When it comes to AC replacement, you owe it to yourself to seek proven HVAC services with years of experience in the industry. Thankfully, CM Heating is at your disposal. 
AC Replacement Near Me
CM Heating is the leading authority on all things HVAC in the Everett, WA, area. If you require a new installation or AC replacement, our team of expert technicians is standing by to help. We employ only the most experienced and most courteous professionals in the Everett, WA, region.
CM Heating has been serving the proud state of Washington for over 35 years, gathering over 2,000 five-star reviews from our customers in that time. Just as well, CM Heating has earned several accolades, including ABA Small Business of the Year (nationally), Inc. 5000 list of America's Fastest-Growing Companies (nationally), and Top Ductless Performance (five-state area; six years in a row; top 1% nationally in 2017).
We're the HVAC company to trust with our AC replacement, and we're right around the corner from your neighborhood in Everett, WA.
When to Replace Your AC Unit
AC replacements can be a daunting financial obstacle, and we understand that. However, it might be worth considering when compared to the risks and potential costs of keeping a unit in decline. If you're wondering when to replace your air conditioning unit, here's a few things to keep an eye on.
Low Energy Efficiency
Energy efficiency is an often overlooked and critical quality of an AC unit that you should keep track of. It may be difficult to measure directly, but, considering that energy efficiency drops over time, lower energy efficiency will reflect in your utility bills.
If your air conditioning unit hasn't been regularly maintained to keep energy efficiency as high as possible, you may want to consider replacing it. A new installation can quickly pay for itself, given how much money you will be saving on your utility bill each month. Typically, a new modernized system can save up to 30% on energy bills right away.
Frequent Repairs
If you find yourself calling HVAC services every summer to revive your broken-down unit and get it working again, it's probably time to replace it. Even if they seem like the more trivial cost compared to a new installation, frequent repairs can build up over time. If one or two repairs don't resolve the issues with your unit, consider the total cost of each repair and compare that to a brand-new replacement.
Most likely, you'll find that a replacement unit is not only the less expensive option, but it's also less of a hassle. Remember, you're not just spending money getting your unit up and running. You're spending time scheduling appointments and being present for repairs. 
Inconsistent Cooling
Take a quick tour of your home. Are there any rooms that feel like they're at a different temperature? Are there any spaces in your home that are warmer than they should be with your air conditioner running? Put your hand close to each register, as well, and evaluate the strength of airflow from each. 
If you find that temperature is inconsistent from room to room, or if the airflow seems weaker in areas, this is a telltale sign that something is wrong. 
Your AC Unit Is Ten Years or Older
Ten years is the life expectancy of most air conditioning units on the market. Once your unit reaches ten years of age or more, the likelihood of unexpected complications gets higher and higher. Even if your older air conditioner is running as you would expect, its energy efficiency is likely very low. That means you could potentially save heaps of cash by getting a replacement air conditioning unit.
AC Is Leaking
If you discover that your AC is leaking, you need to call a technician right away. If your unit is leaking refrigerant, this can pose a dangerous and costly complication. A refrigerant leak is an expensive fix, generally making total system replacement the more cost-effective option.
CM Heating is your local residential air conditioning service specialist. Get in touch with us today to schedule the AC system services. We are ready to help you with your:

Tune-Ups & Maintenance


Scheduled & Emergency Repair


Replacement & New Installation
If your air conditioning system is acting up or needs to be replaced, call CM Heating today! We can often take care of a repair in a single day and even get your installation started the next!
We are your greater Everett, WA area AC experts. Schedule with us and have the peace-of-mind that your home will be comfortable again.

Schedule air conditioning service today. CM Heating is here provide any repair, tune-up or maintenance, replacement or new installation. Call or click today to get the furnace service you need.

Schedule heat pump service today. CM Heating is here provide any repair, tune-up or maintenance, replacement or new installation. Call or click today to get the furnace service you need.
Book mini-split service today. CM Heating is here provide any repair, tune-up or maintenance, replacement or new installation Call or click today to get the furnace service you need.