WATER HEATER SERVICES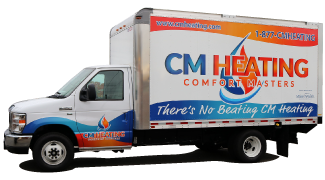 Residential Water Heating Services Tank Water Heaters


Financing

for Qualifying Applicants
Subject to approved credit. Click here to learn more!

Click here to take advantage of our specials, offers and savings today!
CM Heating is your local residential water heating service specialist. Get in touch with us today to schedule the water heater system services you need. We are ready to help you with your:

Tune-Ups & Maintenance

Scheduled & Emergency Repair

Replacement & New Installation
If your water heater is leaking, acting up or needs to be replaced, call CM Heating today! We can often take care of a repair in a single day and even get your installation started the next!
We are your greater Everett, WA area water heater experts. Schedule with us and have the peace-of-mind that you'll have reliable hot water again.
Water Heater Services with CM Heating
When you come home from an exhausting day of work, all that's left to do is get in a refreshingly hot shower. The scorching hot water has a way of melting away the week's stress. Unfortunately, when your water heater is acting up, these showers only create an additional headache.
When you want to keep your hot water flowing flawlessly, turn to the experienced professionals at CM Heating.
4 Signs That You Need Water Heater Services
A water heater is an excellent investment in your comfort and the value of your home. However, it still requires your attention every once in a while.
If you're already a loyal user of a water heater, be mindful of the signs that you might need repairs soon.
Constantly Running Out of Hot Water
One of the most common (and annoying) symptoms of an underperforming water heater is that you're constantly running out of water. Even when you try to get out of the shower in less than five minutes, you may still feel that dreaded cold water hit the back of your neck.
Fortunately, you don't have to get stuck shivering in the cold. It can be solved quickly with a visit from CM Heating for water heater services.
Your Water Pressure is Weak
Another sign that your water heater is on the fritz is weak water pressure. When a shower or faucets are struggling to provide water, it's usually because there is excessive sediment build-up in your water tank or drainage issues in the pipes.
If this problem is left unchecked, it can become a massively expensive project that leaves you without hot, running water for days.
Your Water Smells Odd
When you notice that the water coming from your home smells funny and is discolored, it's most definitely time to contact CM Heating for water heater services. When water starts to change color or develops a strange odor, it might mean that there are bacteria present. It could also be evidence of rust accumulating in the water heater.
The Water Heater is Leaking or Making Noises
While you probably don't spend too much time with your water heater, you should occasionally check on it for irregularities.
A pool of water forming underneath the water heater is cause for concern. Suddenly hearing loud noises coming from your tank is also a classic indicator that the system is about to stop working. If this happens, reach out to CM Heating right away. We will have a qualified professional out to your home right away to discuss your needs for water heater repair.
CM Heating Water Heater Services
While some homeowners may be concerned about the potential costs that come with water heater repair, we provide some of the most affordable services in the area. That doesn't mean that you'll compromise on quality, though! At CM Heating, we're committed to providing the local community with cost-effective, professional service.
Here are just a few of the services that we provide.
Regular Maintenance
The only way to guarantee a long and healthy life for your home's water heater is to adhere to a schedule for regular maintenance. Without maintenance on an annual basis, you may end up paying for water heater repairs more often than you should.
Some common maintenance procedures for water heaters include:
Testing the TPR valve
Flushing the water tank to remove sediment
Updating pipe insulation
Testing pilot lights
Checking the heating element
While it might be tempting to put off regular maintenance, having an experienced professional come out to check on your water heater can save you money over time while also helping you to avoid the need for a premature replacement.
Scheduled and Emergency Repairs
Water heater repairs can arise at any time of the day or night. Whether you need us during scheduled business hours or for a late-night emergency repair, the team at CM Heating is eager to take on the task, getting your water heater back up and running quickly and efficiently.
Replacement and New Installation
When a water heater is beyond repair and you need a replacement, CM Heating has got you covered. The beauty of a full water heater installation with CM Heating is our reliability. We'll show up on time, get the job done efficiently, and answer any questions that you may have about your new system.
No matter what water heater services you need, CM Heating is here to help. Give us a call today to find out more about what we can do for you!

Schedule tank water heater service today. CM Heating is here provide any repair, tune-up or maintenance, replacement or new installation. Call or click today to get the water heater service you need.