Furnace, Air Conditioning, Heatpump Services in Spokane, WA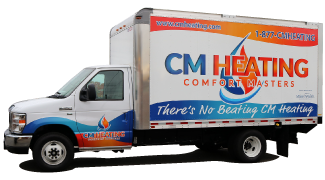 HVAC Services in Spokane, WA

Financing

for Qualifying Applicants
Click here to apply for financing today!

Click here to take advantage of our specials, offers and savings today!
Spokane boasts colorful falls, snowy winters, and warm summers. But preparing your home for everything from freezing temperatures to summer heat can bring challenges. You can be prepared for anything with our HVAC services in Spokane, WA. At CM Heating, we know that your heating and cooling systems are vital to your comfort and we offer a wide range of services that can keep you ahead of the weather.
You can schedule services for your heater or air conditioner by calling CM Heating today or by setting up an appointment online.
Our HVAC Services in Spokane, WA
Both your heater and your air conditioner will be in use for much of the year. Having these systems installed, repaired, and maintained by a company with a long-standing reputation in the community can be your first step to year-round comfort. Our team at CM Heating has been offering comprehensive HVAC services in Spokane, WA for decades.

Heating Services
Spokane can get several feet of snow every winter. And while a dusting of snow can make Spokane's bridges look like something out of a fairy tale, it can also be taxing on your heating system. Keep your current system in perfect condition with our repairs and tune-ups or get something more reliable with our furnace and heat pump installations.
Heat Pump and Furnace Installation
Heat pumps and furnaces can both be efficient ways of heating your home in Spokane's reasonably mild climate. But it can be helpful to have some guidance as to the best brands and models. At CM Heating, we can guide you through the pros and cons of each type of heating system and help you narrow down which system will be most effective in your home. We offer both furnace and heat pump installation in Spokane, WA.
Heat Pump and Furnace Repair
Has your furnace or heat pump been making noises, running less efficiently, or contributing to the poor air quality in your home? You can call CM Heating for furnace and heat pump repair services. We are committed to accurate diagnostics and exhaustive repairs that will ensure that your system will run smoothly again.
Heat Pump and Furnace Tune-Up and Maintenance Services
Before the first cold day in the fall, make sure your system is ready to turn on with our furnace and heat pump tune-up services. We don't want you to be caught without heat because your furnace has refused to turn on after the summer. Our furnace tune-ups include detailed inspections and cleaning. We are also happy to change your filter if you have replacement filters on hand so that you can start fresh with the new season.

Schedule Furnance Service

Air Conditioning Services in Spokane, WA
Anyone who doesn't think Spokane gets hot hasn't lived here in the middle of July. When the temperatures are in the 80s or above, it can become stifling indoors without the right air conditioning system. With our AC installations, repairs, and tune-ups, we will help you to enjoy the perfect temperature inside without worrying about skyrocketing utility bills.
AC Installation
You have choices when it comes to the air conditioning system that you install in your home. Ductless mini-split air conditioners can be an ideal choice if you want zoning capabilities or if you need to cool a room that isn't connected to the ductwork. Central AC systems are ideal for homes with ductwork and forced air heating. 
At CM Heating, we understand the importance of matching your home with the correct system to provide you with the most reliable heating and cooling services. We offer both ductless mini-split and central AC installation along with other options. 
AC Repair
You may have a mini-split system, central AC, or a heat pump. Regardless of what you use to cool your home, you can depend on our technicians for fast 24/7 emergency AC repair services. We are one of the top-rated companies in the state because we can repair any type of system and we get there right away. 
AC Tune-Up and Maintenance Services
An AC tune-up is important for every type of cooling system. Since sitting idle during Spokane's long winters can be just as bad on your system as running continuously, we advise our customers to invest in yearly maintenance. Our tune-ups clean up the year's grime and build-up from your system, ensure the health of each component, and alert you to any repair needs.

Schedule AC Service

Furnace, Air Conditioning, & Heat Pump Services in Spokane, WA
Having your AC and furnace serviced or installed shouldn't have to feel like a risk. You should be able to rely 100% on the quality of the services you receive. That is why our team at CM Heating offers a 100% Satisfaction Guarantee on all of our HVAC services from our installations to our repairs. If there is ever anything that doesn't live up to your expectations, let us know and we will make it right. 
Do you need heating or cooling services in Spokane, WA? Call our team today or contact us online.
HVAC Services We Offer in Spokane, WA