Mini Split Installation in Lake Stevens, WA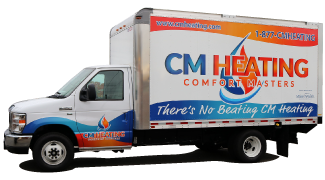 Click here to take advantage of our specials, offers and savings today!
Have you been hearing more and more about mini-split air conditioners? Mini-splits have gained popularity in recent times for their easy installations. Homeowners do not need to go through the fuss of installing ductwork before they can have an HVAC installation. Mini-splits are also a great choice for add-on rooms after renovations.  If you are interested in having a mini-split installed, contact CM Heating. We will discuss the best solution for your home's layout and requirements. 
For more information, make an appointment online or call us at 1-866-880-8777.
What is a Mini-Split Installation?
Mini-splits are HVAC systems that allow you to control the temperatures in individual rooms or spaces. There are two main parts of a mini-split AC unit.
The outdoor compressor
The indoor air-handling unit (evaporator)
Mini-split installations are simple and cost-effective because it only requires a tin hole in the wall for the wiring and other components. 
Advantages and Disadvantages of a Mini-Split Installation
As will any HVAC unit, there are pros and cons involved. Not every type of air conditioning system will suit your home. That is why we have compiled a list of advantages and disadvantages of a mini-split installation for you. 
Advantages
Mini-splits are easier to install than other HVAC systems. The upfront installation costs are significantly lower than with other AC units.

They are more environmentally friendly and energy-efficient. This is great if you want a greener lifestyle by reducing your carbon footprint.

It is a brilliant option if you live in an apartment or rented house as you don't need to do any external modifications. 

If you live in a shared house or building, you have full control over the temperature in your section of the building. The system is split into individual rooms. 

Due to the low energy usage, the mini-split installation will result in lower electricity bills. 

The system cools your home quicker than other HVAC systems,

You don't need any pre-existing ductwork for it. If you have an older home, you likely don't have any ductwork – a mini-split installation will be the best for you.
Disadvantages
Mini-split installations may have a higher upfront cost. Each room needs its own unit. The more rooms you have, the more it will cost.

The outdoor compressor can be loud.

The outdoor unit needs space. 

It circulates the air inside the room and doesn't release fresh air.
Mini-Split Installations Require a Professional
A mini-split is easy to install, but it is still necessary for an expert to do this. An outdoor unit needs to be installed safely and correctly. At CM Heating, we have a team of experts that know how to handle mini-split installations. A mini-split must be installed in a certain way to serve you for a long time. 
Mini-Split Replacements
If you already have a mini-split unit, you know how great it is. However, like all appliances, mini-splits eventually wear out and break. Don't endure summer without your AC – call us today to arrange a mini-split replacement as soon as possible. Our team has a quick response time, so you don't have to melt away in the scorching Washington summer. 
Mini-Split Maintenance and Tune-ups
As with anything we cherish and value, mini-split units require regular maintenance to keep them in good shape. If you want to get the most out of your mini-split, schedule annual tune-ups. These should be done just before summer starts, so your AC is in an ideal condition to tackle the warm months. Tune-ups involve clearing the vents and filters of mold and other debris. They also check for any faulty components and replace them if necessary.  Keep up with your annual services to prevent a mini-split replacement from coming around too soon.
Financing
As we mentioned before, mini-split installations can be pricey. The upfront cost might scare you off and force you to choose another type of AC you're uncomfortable with. To ease your financial anxieties, we offer finance. Visit our website to find out more and see if you qualify. 
Trusted Expertise
CM Heating has been around for over 35 years, and it is easy to see that we know what we are doing when it comes to HVAC installations. Our friendly team of highly trained technicians is ready to tackle your mini-split installation. They are just a phone call away.
Contact CM Heating for Your Mini-Split Installation
Join the countless others who are enjoying the benefits of having a ductless mini-split installed. You won't regret it! 
Contact us at 1-866-880-8777 for more information or arrange an appointment online. We can't wait to hear from you!

Schedule air conditioning service today. CM Heating is here provide any
repair, tune-up or maintenance, replacement or new installation
. Call or
click
today to get the furnace service you need.

Schedule heat pump service today. CM Heating is here provide any
repair, tune-up or maintenance, replacement or new installation.
Call or
click
today to get the furnace service you need.
Book mini-split service today. CM Heating is here provide any
repair, tune-up or maintenance, replacement or new installation
Call or
click
today to get the furnace service you need.