Electrical Services & More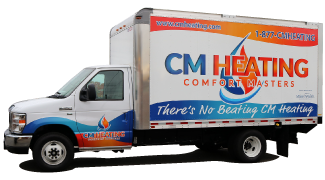 Electrical Services & More

Financing

for Qualifying Applicants
Subject to approved credit. Click here to learn more!

Click here to take advantage of our specials, offers and savings today!
When your home is in need of electrical services, you cannot afford to settle for anything less than the best in Everett, WA, and its surrounding areas. Whether you need a quick inspection or a repair, you can count on CM Heating to get the job done right the first time. 
Electrical Services We Offer 
Wiring and Rewiring

 Appliance Installation

 Capacity Upgrades

 Generators

 Fuse to Breaker Upgrades

 Pool and Hot Tub Wiring

 Outlet and Switch Installation and Replacement

 General Electrical Repair

 Residential Only

 Inspections and Testing

 Indoor & Outdoor Wiring

 Surge Protection

 ARC-Fault Breakers

 Grounding System Upgrades

 GFCI Outlets & Breakers

Keeping You Comfortable
Call or click today to schedule a repair, maintenance, installation or replacement.
Benefits of Preventive Electrical Maintenance
The best way to avoid expensive repairs and replacements of your electrical system is to have regular electrical preventative maintenance inspections. We typically recommend this inspection at least once a year to ensure that your electrical system is working in optimal condition. Below are a few key benefits of regular electrical maintenance services.
Safety
Electricity is amazing to have in the home until its condition wears out to the point of costing us our safety. There are certain things in the electrical system that can deteriorate, or wear out, causing the risk of shock, fire, and other hazardous conditions. 
For example, CM heating technicians ensure that the electrical wiring is not exposed or frayed, or in any other state of disrepair. Electric shock can be caused by exposed wires, and electrocution can occur if they come into contact with water.
Electrical preventative maintenance services also save you money in the long run. First, these regular inspections help point out any need for minor repairs and adjustments, allowing you to avoid greater problems in the future. 
Additionally, a poorly functioning electrical system can greatly affect the efficiency of your electricity. This will lead to high electricity bills. Luckily, such issues can be avoided with a regular maintenance inspection of your electrical systems.
Save Energy
As we mentioned previously, regular maintenance visits also help keep the monthly operational costs at a minimum. If any component of the electrical system isn't working correctly, you can and will end up with inefficient electricity at home. Thus, this inefficiency will lead to excessive and needless energy expenditure. With a regular maintenance check, this can be avoided entirely.
Preventive electrical maintenance services also play a big role in reducing the number of malfunctions in the electrical system. You will not need as many repairs because of the minor adjustments done during the maintenance visit. Will ensure that these issues never happen. 
It is essential to catch electrical repairs while they are still small and easy to fix before they grow into big problems. Thanks to electrical maintenance services, he will be able to avoid greater problems down the road and have reliable electricity in your home.
Contact CM Heating Today
Are you in need of electrical services in Everett, Washington? Whether you need rewiring, outlet repair, or electrical installation, no task is too great for our top-notch electricians. To learn how to schedule your service today, contact CM Heating today to arrange a repair or maintenance visit with the best electricians in town. Call us today at 866-880-8777.

Book Your Maintenance