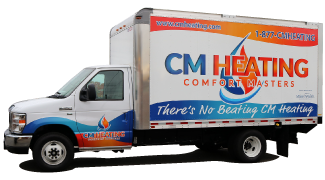 Prompt and Reliable AC Repair in Mount Vernon, WA
Summers in WA can be hot and uncomfortable. We cannot overestimate the importance of having a well-functioning cooling system that is highly efficient and performs at an optimal level.
Get Out of the Heat… Now!
CM Heating is your trusted provider of AC repair services in the Mount Vernon area. It can be very frustrating to suddenly have an AC system breakdown when you need it most. If you need an air conditioning repair specialist, look no further.
Our Complete Range of AC Services
No matter the scale of the problem, our experts are equipped with the skills and experience to provide you with a prompt diagnosis and fix the problem.
We specialize in:
Routine AC inspection and maintenance

AC repair and maintenance services

AC installations and replacements

Emergency repairs
An air conditioning unit is an assembly of multiple parts and features, all of which need to work in perfect unison to provide you with clean, cool air throughout the hot summer months. Even a minor disruption or damage can affect the performance and cause the entire system to shut down.
If you are having issues with your air conditioner, book your service today, so we can get your unit up and running in no time.
We Work with All Major Air Conditioning Brands
Our team has expertise in servicing all kinds of air conditioning units in Mount Vernon, WA. We also have the advantage of being fully stocked on parts when we come to you.
Our well-equipped inventory makes it possible for us to fix most issues on the same day. In the rare event that we need to order a part, we prioritize ordering and delivery to make it an entirely stress-free and seamless experience for you.
No Job Is Too Complicated
Air conditioning units start showing wear and tear as they get old. Whether your cooling unit has a minor issue or needs a major repair, our team is very adept at completing the task to your satisfaction. Even if your system is older, sometimes we can repair it and restore it to perfect working condition, saving you a lot of money on a new AC unit.
Installations for New AC Units
Occasionally, our team will recommend installing a new unit if your existing unit is beyond repair. We weigh the pros and cons of repairing an existing unit instead of getting a new one.
Sometimes, installing a new AC is more cost-effective than spending money on repairing a very old and unreliable unit. Many advantages come with a newer unit, including enhanced cooling quality, cleaner air, reduced energy bills, and so much more.
If you consider replacing your existing unit, we will make the best recommendations fully customized to your needs. We provide upfront pricing and complete clarity to our customers.
Regular Maintenance Services Can Save You Money
CM Heating provides regular maintenance services for your HVAC unit. We will thoroughly inspect the AC unit, air ducts, filters, thermostat, and indoor air quality. We also ensure that all parts are in good working condition and have clean air filters.
By addressing any issue early on, we can extend the life of your AC system by many years.
Take Advantage of Our Exceptional AC Repair Services
Our EPA certified technicians are highly trained and experienced. We take our customer satisfaction very seriously and will make every effort to get to you as soon as possible. We are a local company that takes pride in helping our community. When you hire us, you will benefit from:
Team of fully licensed and insured AC technicians

24/7 emergency services

Experienced in all major brands

State-of-the-art service vehicles

Latest tools, equipment, and technology

Fully stocked with parts

Free estimates
Our priority is to get your air conditioner up and running as soon as possible and with the least inconvenience to you and your family. Our mobile inventory is completely stocked with capacitors, motors, fans, refrigerants, transformers, air filtration products, and much more to avoid long waits for parts.
You Can Count on CM Heating to Help You Today and Always
Whether you are looking for AC repair in Mount Vernon, WA, or you need installation services, we are a local company that has been serving the community for a long time.
Contact CM Heating today. We are looking forward to helping you!