AC Repair in Lake Stevens, WA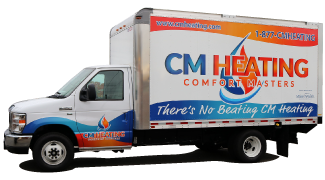 Click here to take advantage of our specials, offers and savings today!
There are few things as vexing as a broken air conditioner. Washington summers are unbearable. They can make you feel as though all the energy has been drained from you. At CM Heating, one thing we understand is how frustrating a faulty AC is. Your AC is necessary to keep your home cool and habitable.
You don't have to do without an AC unit this summer; get on the phone with one of our technicians to find a suitable solution to your AC problems.
Call us at 1-866-880-8777 or schedule an AC repair service on our website.
Signs that Your AC Needs Repairs
Your AC may not show obvious signs that it needs a repair. The faults may be subtle, even hard to notice, but our team has trained eyes and will spot these problems before they worsen!
Increased Electricity Bill
An increase in your electricity bills is a clear sign that something is making your AC unit work harder than usual to keep your home cool. Be sure to call us promptly as this will waste unnecessary energy.
Uneven Air Flow
A blocked vent can cause your home to be unevenly heated. This problem can be solved with a quick clean-up. Call CM Heating to take care of this.
No Cool Air
Your AC likely needs a refrigerant refill or a recharge if it is releasing warm air instead of cool air. We can fix this in no time. Contact us so we can help you get the temperature back down in your home.
Strange Noises
It is important to keep your AC unit off if you hear a grinding or buzzing noise coming from it. There is something damaged inside if it is making this noise. Using without fixing the problem could make it worse.
AC Repair Services
When you call us for an AC repair, we will not delay it! Our team will try to get to you as soon as they can to make your home the coolest place in town.
Inspections
Before any repairs are done, a technician will thoroughly inspect your AC unit to find the issue. We will discuss the problem and the costs of a suitable solution before we start repairing it. The inspection is an important step in fixing your AC unit and must be done carefully to find the heart of the problem.
Major Repairs
Sadly, a major repair can be expensive. If a repair is cheaper than installing a new system, our technicians will get your AC unit in working order in no time. Big repair jobs are not difficult for our team of experts.
Expertise with Any Kind of HVAC System
Our technicians have the know-how to repair any HVAC system. We have common parts in stock so we can repair your AC unit on the same day. We want to get your AC unit back up and running as much as you do.
However, there are times when we need to order special parts for your air conditioner. Even with this hurdle, we will ensure that no time is wasted and that your AC unit is fixed soon.
AC Maintenance
To prevent future air conditioning repairs, contact us to keep your AC well-maintained with regular tune-ups and services. AC tune-ups should be done annually to get the most out of your HVAC system. During winter, your AC unit collects dust and mold. AC tune-ups will sort this out so your indoor air quality stays healthy. Tune-ups can also spot faulty parts before they cause the unit to stop working.
Reasons to Choose CM Heating
Certified Technicians – All of our technicians are qualified and certified. They are more than capable of taking care of all your AC repairs.
Friendly Service – All of our technicians are respectful and kind. When they leave your home after HVAC repairs, they will always ensure that the area is neat and clean.
Quality and Value – At CM Heating, we believe in using only high-quality parts and equipment for your air conditioning repairs. We have won several awards for our outstanding service and prestige business practices.
Contact Us for the Best AC Repair in Lake Stevens
If you are worried about the costs, it will put your mind at ease to know that we are affordable and even offer to finance if you should need an AC replacement. At CM Heating, we guarantee customer satisfaction!
For more information, call us at 1-866-880-8777 or schedule an AC repair on our website.